We look forward to welcoming you to our unique Park.  Simply follow the security gate instructions that were sent to you at the time of booking.  Your phone number will be registered into the gate on the day of your arrival.  Check in time is any time after 2pm as we need this time to keep the park in pristine condition.  Proceed to the office where you will find a map of the Park outside the office with your site details.  If you have booked a private shower and toilet or an on-site accommodation option,  your keys will also be available here for collection.  The key return box is located on the shed before the exit.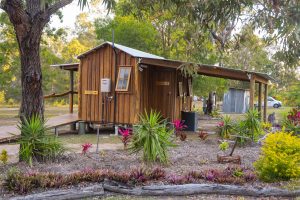 Please don't set up in a camp site location that has not been designated to you, as this can create over-booking.  If you want to move to another site for whatever reason, that is ok, just check with us at the office beforehand, so we can confirm the site is available.
If you require firewood whilst you are staying and you haven't pre-booked, contact us before 5pm and a milk crate will be delivered to your campsite.  There are scattered firepits throughout the park which you are welcome to move to suit your campsite.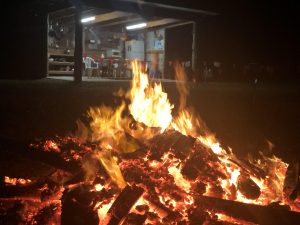 The midges and mozzies can be a problem in the summer months, especially after a lot of rain, so be sure to pack mozzie coils.  We have a range of 100% deet free products here that we use and recommend from Good Riddance, these are also available for pre-purchase at our on-line store and can be made available for your arrival.  Visit Midge Magic Man Store  or come say g'day at the Urangan Pier Park Markets every Wednesday and Saturday 7am to 1pm.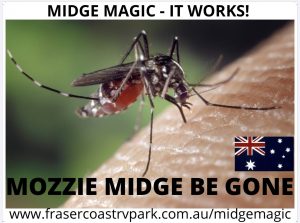 We can also arrange a tour to Fraser Island for you and the courtesy bus stops at the Bush Kitchen at 8am. 
Fraser Coast Dog Care offers in-house dog minding for $50 per day if you want to venture out and have your fur babies taken care of in the comfort of their own surroundings.  Bookings are essential.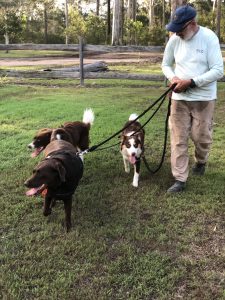 You can find lots of information in the bush kitchen about tours and maps to the nature reserve with the walking trails.  The 40 acre nature reserve has been dedicated to Land for Wildlife.
There is a hose and tap at the Ironbark tree just outside the security gate.  This is also a good spot to flush out your motors for your boats and jetski's.
There is a free dump point at the Hervey Bay Visitor Information Centre open 24/7 on the Maryborough Hervey Bay Road, 20 minutes away.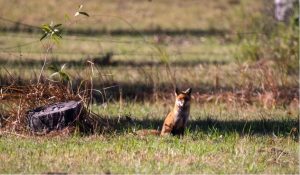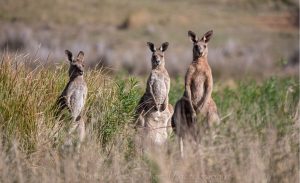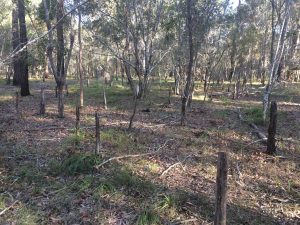 There is an IGA shop 2.5kms up the road, open 6am to 6pm, that sells everything, including hot food and coffee.  The Rivers Cafe also has lovely meals, takeaways, pizzas, coffee and sweeping views of the Mary & Susan Rivers.  You can find their menu in the Bush Kitchen.  All your chemist supplies can be found at the River Heads Pharmacy.  Closest fuel is BP at Airport (10 minutes) and this is also the closest bottleshop.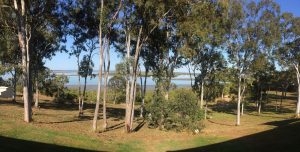 If our dog Rosie comes to visit you, please don't feed her and if she is annoying simply point to the house and say "go home".
Rosie usually has her green scarf on and she will come and greet you.  She is a very friendly dog and loves belly rubs.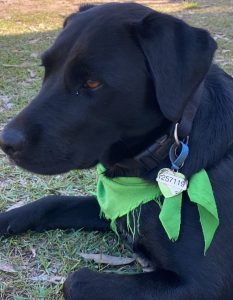 The other little dog that comes and visits the Park is Jimmy.   He loves to play ball even though he is almost completely blind.  He is an old dog that used to live here and now he comes and visits the Park, checking out who he can get to throw the ball.  Jimmy gets frustrated when Rosie steals the ball and barks, just say "stop barking" and he will.  Also you can tell him to "go home".  Jimmy is afraid of small children and we don't recommend you let the young ones play with him.  Both of these dogs are rescue dogs and they are best mates.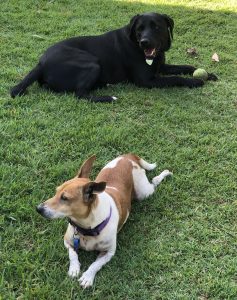 Would you like to book your very own private shower and toilet?  
The private shower & toilets are $10/n and offer exclusive use for your site.
The Tank Block is included in your rate and has external plumbing with a transparent roof.  The customised handmade rainwater shower heads provide an excellent shower with plenty of pressure and gas hot water.
We pride ourselves in being able to offer top quality facilities.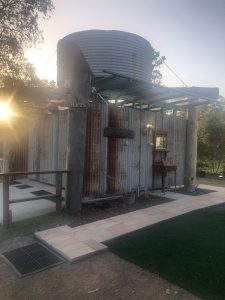 Power – we are not like a conventional caravan park where you park next to a power bollard.  We have one bollard with 4 outlets and 4 hose connections.  You are only limited to where you can park by the length of your lead & hose.  
Pictured is Power Paddock at full capacity.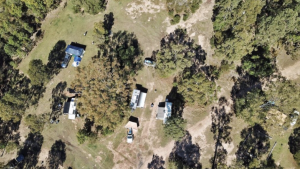 If you have booked Bertha the Aussie Van you will automatically be allocated the Bog – flushing authentic Aussie outhouse.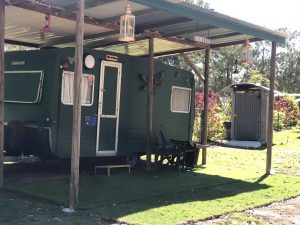 If you have booked the Gypsy Wagon you will automatically be allocated the Dunny – flushing authentic Aussie outhouse right outside.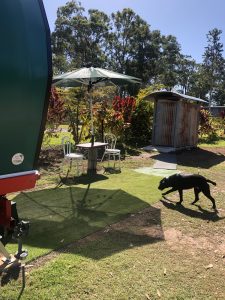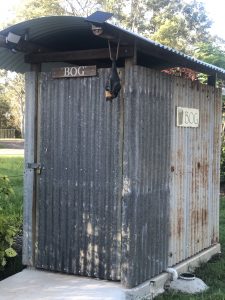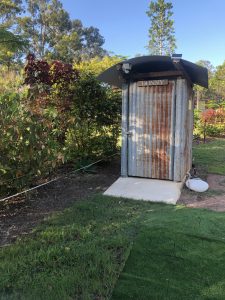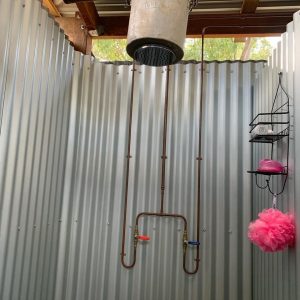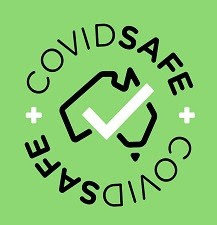 We do everything possible to ensure that your stay is a memorable one connecting with nature.  In the current uncertain times we understand that you may not be able to travel because of enforced restrictions.  If this occurs, we are happy to hold your booking in credit for when you are able to travel again.  Send us an email to let us know if your plans have been altered.  All bookings automatically attract a $25 cancellation fee.   Stay safe.