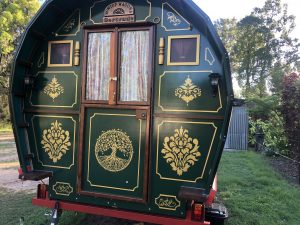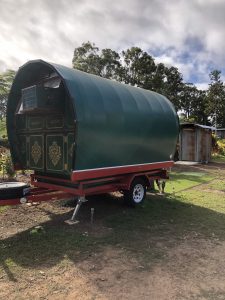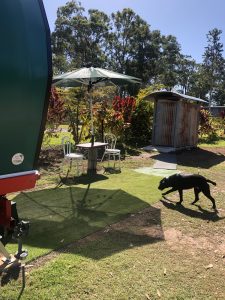 Ever wanted to experience a unique stay in a Gypsy Wagon….well here is your chance…air conditioned comfort with a generous queen sized bed and power supply.  Small sink and a really cute place to stay.  So if you want to escape, relax & unwind here is a perfect option for you.  Gertrude the Gypsy Wagon is waiting to surprise & delight you.  The bed comes with linen and ample pillows.  There is a table & chairs outside with umbrella.  Just a few steps from the Bush Kitchen so you can prepare your dinner and 10 steps from the courtesy bus to Fraser Island and 10 minutes to Hervey Bay Airport with access to Lady Elliot Island.
Suitable for couples.  Sorry no pets.  Suitable for group booking with other camping sites beside you and you can book the Dunny as well as your own private out-house.  
***** Truly amazing experience! We stayed in the Gypsy Caravan and it was super nice. The caravan was beautiful on both the inside and outside, and had plenty of storage space. The bed was so comfortable! It also has an air con so the caravan stayed nice and cool. We brought a tent on our trip and there were no regrets choosing to stay here instead! The amenities in the RV park are also well-equipped and clean. We absolutely recommend to everyone! 5 stars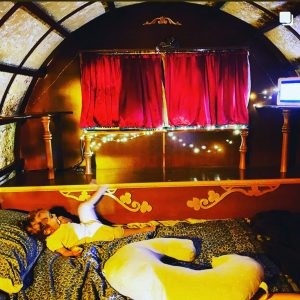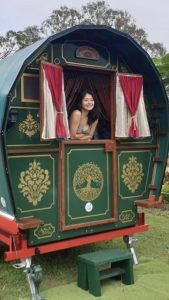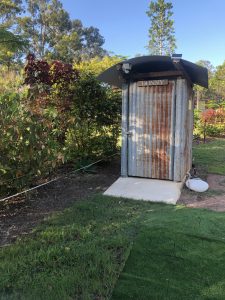 Recent reviews – Fun quirky place to stay! I stayed in Gertrude the gypsy van. She is magnificent and super comfy. I loved all the special touches which were everywhere.  Make sure you pack plenty of bug spray to keep the midges at bay! Short drive into Hervey Bay if you need anything or for a swim (high tide) or just a long walk on the beach (low tide). I really enjoyed my stay and would definitely stay again.
We stayed in Gertrude the gypsy wagon, and very much enjoyed our stay. We stayed during summer, and were delighted that the air con was effective, and was even turned on awaiting our arrival. The ground's amenities were remarkedly clean, with a quaint kitchen with all the essentials. The showers and toilets were spotless – and I even showered after dark without a sign of any creepy crawlies. The staff were welcoming and should be acknowledged for such a pleasant and unique destination they have created. We look forward to staying again.
This place is fantastic. Would highly recommend , Spotless clean and very friendly hosts.  Could not fault it at all. Thank you
Or check out our other amazing options – 5 star luxury in Mango Lodge or the unique Bertha our Aussie Van