Ever wanted to take a trip to Fraser Island or Lady Elliot Island and you haven't been able to because you have your fur babies travelling with you.  Well here at Fraser Coast RV Park you can do just that!
We have a designated area for dog lovers called Dogs Corner.  There is a lovely paddock for the dogs to take in the country atmosphere and located right next to the 40 acre nature reserve with 4kms of walking trails, what better way to Escape, Relax and Unwind.
Photo updates supplied. Cost is $50 per day.
All you need to do is supply your dog bed & food.
Recently our guests enjoyed a trip to Fraser Island and were very impressed with the service provided.
So if you love your fur baby and you still want to have a holiday experience, just come and stay here and we can enhance your stay by giving your fur babies a holiday too.
There are 14 off-leash areas in Hervey Bay. The River Heads Reserve is only 2kms away and there is plenty of room for your dogs to run free. There are beach areas close by and some contain agility equipment.
The closest areas are 55 Seafarer Drive, River Heads – 24 hour off-leash
Urangan Park – 19-37 Vista St, between Becks Road & Round Island Road, contains agility equipment – 24 hour off-leash, fenced
Urangan Foreshore from the rock wall south of the harbour and adjacent to Boat Harbour Drive to Pulgul Creek – 3pm to 8am off leash
Urangan Foreshore from the Urangan Pier to the Aquarium – 3pm to 8am off leash
There are so many more to explore, these are just the closest ones.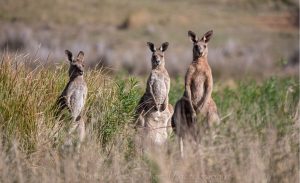 Because we have a large kangaroo population, we respectfully request that you keep your pets under control. We have a strict rule, that any animal chasing kangaroos will be asked to leave immediately. There are some fabulous little dog runs available now, which is a good way for your dog to still enjoy the wide open spaces and have a great camping holiday too.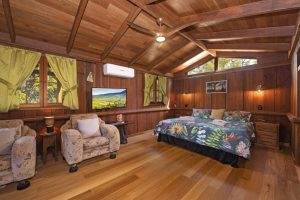 Unfortunately we cannot allow dogs to stay in our luxury timber cabin "Mango Lodge" as all the floors are soft wood timber and need to be preserved as much as possible.  The cabin is absolutely adorable.  We have added Bertha the Aussie Van now and we are going to allow visitors with their fur baby to stay there as an alternative.

Our favourite spot is Dundowran Beach – it is an amazing spot for Rosie to run free and splash in the water.