The most common comments from our customers are:-
*this is the best Park we have been to in Australia
*we don't want to write anything good because we don't want everyone to find out about it
*we love everything about the place
*we want it to stay exactly like it is
So we feel proud to have created a piece of paradise here on the beautiful Fraser Coast.  Here are a couple of reviews from recent customers who have enjoyed our on-site facilities. We offer different styles of accommodation here and specialise in the unique and quirky. We are not your average caravan park with jumping pillows, swimming pools.  We are in a natural bushland setting where you can relax, escape, unwind and get back to nature. Be sure to pack the push bikes for the kids so they can enjoy riding around the property or your walking shoes to explore over 3kms of walking trails in the 40 acre nature reserve dedicated to Land for Wildlife.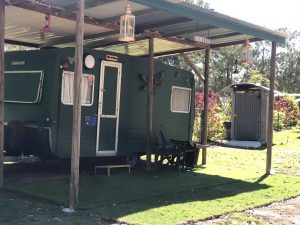 Wow – we had such an incredible stay here at Mango Lodge. With two children we weren't too sure what to expect. But as soon as we arrived we fell in love and booked to come back straight away. The place was super clean and had everything we needed for our 4 nights stay. The beds were so comfortable and the outdoor bath was such a beautiful touch. We had a fire every night and sat listening to all the birds and bats. We saw the kangaroos feeding up at the gate every morning. Not to mention the location is perfect for exploring the beautiful area. With Fraser Island being so close we made it a great day trip. Highly recommend and we can't wait to come back. Thank you !
We loved staying at Mango Lodge. It was such a treat. Everything about the place is special. The outdoor bath looking out at the 100 year old Mango tree was pretty special. The bed was super comfy too! Thanks so much
My partner and I loved staying in Gertrude, a very unique stay with much more than we'd expected (good lighting inside and motion sensor lights outside the toilet, well equipped kitchen and very clean bathrooms!)
I truly recommend this place if you want to stay in this amazing area! Great caravan, Bertha was very clean and the hosts are very nice.
Great location. We packed towels but soon realised that we didn't need to as everything we needed was already there. Was surprised to find it had air conditioning, which was amazing. And cute little eating spot inside as well as outside. We set up our Webber out the front on the grass and had dinner out there while our bub crawled around on the fake turf with his toys.