Are you looking for Hervey Bays Most Loved Caravan Park?
Then Welcome To Fraser Coast RV Park!
This is a very large property with plenty of caravan and camping site options – and is perfect for large RVs. The facilities are superb and we take every care to ensure your stay is memorable and comfortable.
Hervey Bay is known as the whale watching capital of the world and is just 10 minutes from Fraser Coast RV Park. Hervey Bay has a sheltered location, and as such is the best place on Australia's east coast to meet the majestic humpback whales with plenty of good tour operators.
If you're looking for some of the best places to go and things to do on fraser coast look no further then some of the most reputable guides written by travelers for travelers!
Our RV caravan park is located near the airport, in River Heads, and is in the same region as Great Sandy Strait, Hervey Bay Botanic Garden and Great Sandy Straits Marina. Local attractions also include Reefworld Aquarium and the Urangan Pier.
Sandy Strait – incredible sports fishing options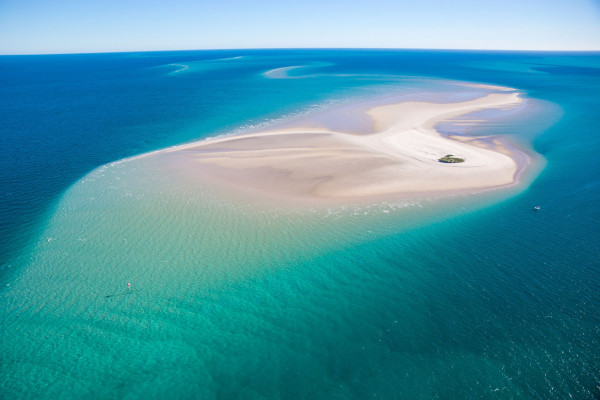 The Sandy Strait is a large estuary system located south of Hervey Bay in Queensland. Bordered by Fraser Island on the east, and the mainland on the west, there are numerous small islands, channels and banks that hold many great sports fishing species.
Hervey Bay waters also feature some reef and solid structure, which holds species such as snapper, along with mackerel, queenies and trevally and upstream estuary type environments where you can find fishing species like barra, threadfin and blue salmon, mangrove jack, tarpon and monster flathead along with bream and whiting.
We have plenty of kangaroo's that visit our River Heads Caravan Park and 66 species of birds have been identified so far. Peter Rabbit and his family also live up in the front paddock. With 4kms of walking trails to explore you can see goanna lizards scampering up the trees, along with echidnas and wallabies. There are plenty of places to explore. A peaceful getaway from modern technology to enjoy nature.
Campsite * cabin * van * gypsy wagon * drive-thru sites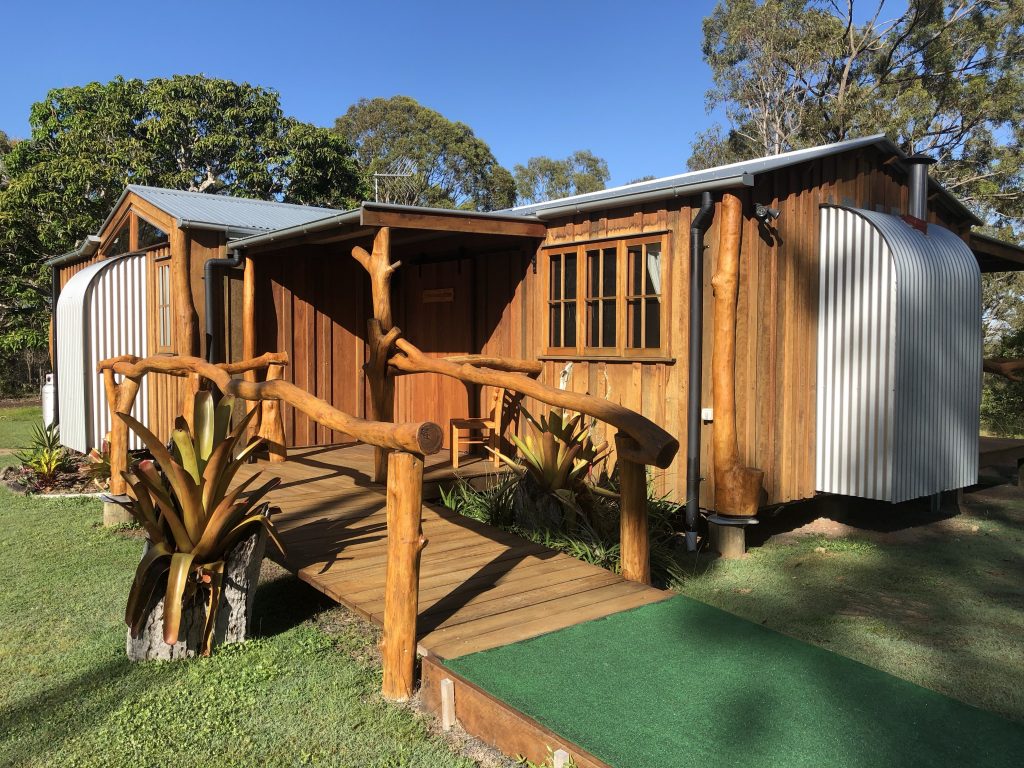 If you are travelling to Fraser Island then this is the spot for you.  Not your average Caravan Park, more like a National Park with 40 acres dedicated to Land for Wildlife.  Powered sites available with fire pits scattered throughout the property.  Enjoy cooking a meal in our unique Australian Bush Kitchen or experience our spacious rainwater shower, "voted best shower in Australia" by some of our campers.  Catering to all types of camping, wheelchair friendly and fur babies welcome.  Enjoy a luxury escape in Mango Lodge.
We loved our stay for 5 nights with the family. Large open spaces, beautiful and clean facilities, perfect for families and groups. Pet friendly and so close to Fraser Island. We will be back for sure! Highly recommended.
Popped in for a short 1 night stay but ended up staying 2. Was so thrilled to find a place I could bush camp and take my dog that also allowed fires and wasn't over run with campervans and trailers. 
Great bush camp just out of Hervey Bay. Plenty of room to park vans ect, super friendly host (Susan) great walking tracks and plenty of wildlife. Dogs allowed and fire permitted, Secure place to leave your van and explore the area. Short distance to Fraser Island Ferry.
There are plenty of wide open spaces for you to camp. We have a Bush Kitchen with gas cook top, sink, fridge, toaster, kettle, microwave.   A large fire pit for groups and smaller fire pits scattered around the property which can be relocated to suit your needs.
Here is a short video clip on the Bush Kitchen.
Bush Showers - Shower heads
Unique bush showers – pictured below left the
Tank Block
and the rustic Australian themed Bush Showers.  The showers are gas hot water and can be enjoyed by our guests.  There are individual use showers and toilets available.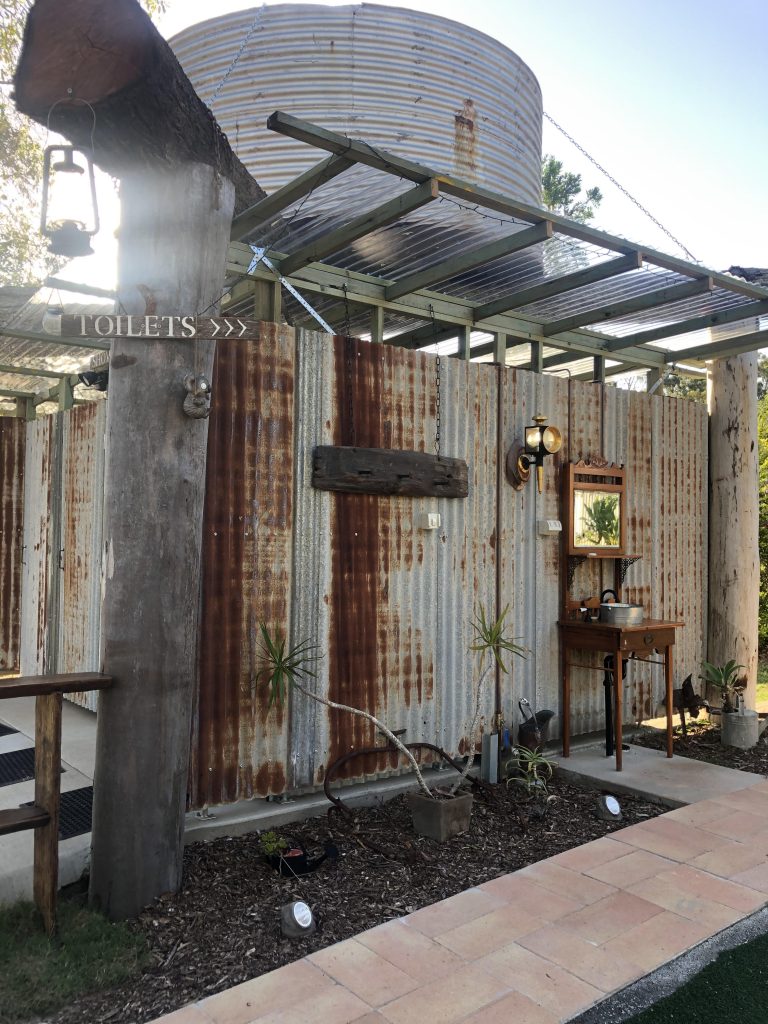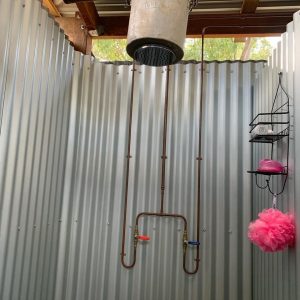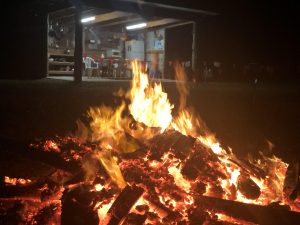 Roast Marshmallows by the fire – scattered individual firepits throughout the property
Mango Lodge - open air bath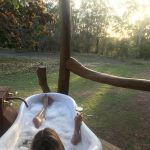 Fed up with your cramped tent, motorhome or van experience, why not upgrade to Mango Lodge.  It is a luxury option down the back of the property beside the 40 acre nature reserve where kangaroos abound.